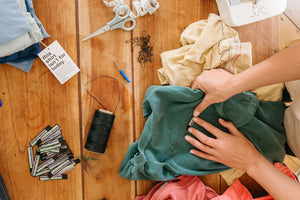 trade-in your gear
Gather up your old, unused Wolf Bear Collective gear and bring it to any Wolf Bear Rewild™ location. Whether it's worn-out, damaged, or simply no longer needed, we'll gladly accept it and you can leave the rest to us.
revive and renew
Our rewild team will assess the condition of your gear and then we'll work our magic, repairing, cleaning, and upcycling the items to breathe new life into them.
use your credit
Put that credit to good use on Wolf Bear Rewild™ or any of our Wolf Bear Collective products, including new gear, accessories. Your credit allows you to contribute to a more sustainable and environmentally conscious world.
At Wolf Bear Rewild, we're all about breathing new life into your gear and encouraging fresh adventures. Our initiative allows you to trade in your old equipment, which we then repair and revitalise before reselling it to fellow adventurers.
We are committed to reducing waste and minimising our environmental impact. By refurbishing and repairing old gear, we extend its lifespan and contribute to a more sustainable industry. Screw fast fashion.
You can trade in any of your old Wolf Bear Collective gear, accessories, or more, no matter what state its in. We're here to help you rewild them all.
Once you've traded in your gear, we put it through our meticulous restoration process. Our skilled repair techs work their magic to ensure it's in top-notch condition for its next adventure.
We have tried to make this the most simple part! You will receive 25% of the original value of the initial garment as credit when you trade it in.
For example, if you trade in a $59.95 tee shirt, you'll receive $14.99 in credit that you can use towards purchasing new gear for your next adventure from Wolf Bear Rewild™ or Wolf Bear Collective.
Our rewilded gear offers not only high-quality and sustainable options but also comes at significantly reduced prices, making it an eco-conscious and pocket-friendly choice.
From the get-go, we're committed to being responsible stewards of our planet. Our mission is to safeguard it for generations to come. Through championing sustainability, mindful consumption, and fostering a tight-knit community, we're striving to forge a brighter future for all adventure seekers.
Getting started is simple – just gather your old gear and bring it to any Wolf Bear Rewild™ location. Join the rewilding movement and embark on a sustainable adventure with us!