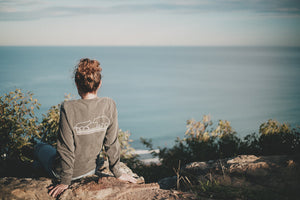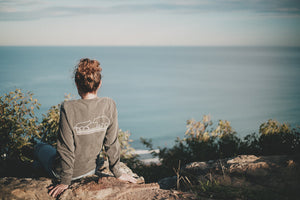 why plant trees?
At Wolf Bear Collective, we're all about protecting our environment. We understand it's crucial to safeguard Mother Nature so that our kids and their kids can soak up the same awe-inspiring wonders we did when Wolf Bear Collective first came to life. Our mission is crystal clear – preserving this wild world and giving people the chance to experience its breathtaking magic up close and personal.
With our Pledge to the Planet programme, we've taken things up a notch. For every single garment we sell, we plant not one, not two, but a whopping five trees! We're committed to building a sustainable future where everyone can revel in the mind-blowing beauty and utter serenity of nature.
So join us, dive in headfirst, and be part of the Wolf Bear Collective movement, where we're making a real difference for our planet. Together, we'll create a future where nature thrives and future generations can continue to cherish its magnificent treasures. Let's do this!
why trees?
Trees are absolutely critical for our planet's health and well-being. They're essential for mitigating climate change, improving air quality, preserving biodiversity, and providing homes for countless species. By planting trees, we're taking a proactive step in restoring and safeguarding ecosystems all around the world.
Now, one of the main reasons why our Pledge to the Planet is so crucial is its impact on combatting climate change. Trees act as natural carbon sinks, absorbing carbon dioxide from the atmosphere and storing it for good. This means that by planting more trees, we're helping to reduce the amount of harmful greenhouse gases in the air and creating a healthier, more sustainable future for ourselves and for generations to come. So let's roll up our sleeves, get our hands dirty, and plant some trees.
318
days of employment created
By incorporating our Pledge to the Planet as part of the fabric of Wolf Bear Collective, we aim to inspire our pack to join us on this journey towards a greener future. With every garment they purchase, they become active participants in the reforestation efforts happening around the world. Together, we can create a positive ripple effect, five trees at a time.
By doing this, it also empowers local communities. By collaborating with our reforestation partner, Eden, they work hand in hand with local communities to ensure that the trees are planted in areas where they are most needed. This approach creates job opportunities, fosters sustainable livelihoods, and promotes community engagement, making a lasting impact beyond the act of planting trees.
Our Pledge to the Planet is not just a programme; it's our unwavering commitment to the environment and the future of our planet. Together with you, our pack, we are sowing the seeds of a sustainable future, one garment and five trees at a time.
Working alongside Eden Reforestation, we only plant native species of trees that are specific to the location we're in and we never introduce any invasive species within any project sites. In addition, Eden also plant agroforestry species for sustainable community use which prevents communities from going into newly restored forests, therefore providing greater community benefit and involvement into each and every one of the projects we are working on. 
Eden collects most seeds from nearby remnant forests. If required to supplement the seeds we collect, we purchase seeds from local, trusted seed banks. We do not purchase seedlings; we grow our seedlings in our nurseries to ensure quality and germination rates.
Currently at Eden Reforestation, we work alongside local communities in Madagascar, Mozambique, Kenya, Ethiopia, Nepal, Indonesia, The Philippines, Haiti, Central America and Brazil. Here, Eden produce, plant, and protect tens of millions of trees every month and by doing so we are creating jobs in these local communities to support them in restoring their local environment and economy long-term.
We use various planting methods such as seed balls, seedling nurseries, bare-root transfers, and mangrove propagule planting. Each nation uses one or more of these methods depending on the species of trees that are native to that given region.
Thanks to our in-country staff's hard work, we have developed deep and respectful relationships in all levels of community and government departments. We make concerted efforts to form and secure written agreements with a clause leading to a perpetual forest. Further, to ensure protection in perpetuity, our funding strategy includes salaries for guards while we restore forests. We also have a Forest Guard Endowment to fund site guards after the regional forest is fully restored.
Our leaders have developed reliable systems for counting and sorting the number of seedlings produced in the nurseries and/or the number of mangrove propagules collected. After the seedlings and propagules are collected and sorted, they are planted within designated sites.
A percentage of seedling and propagule mortality is inevitable. However, we have discovered that mortality becomes irrelevant as natural regeneration begins to occur and multiply in impact. For example, at our mangrove sites, natural regeneration typically exceeds 150% of the original number planted. The same is true of the dry deciduous sites in Madagascar, and we already see the same multiplication effect in Nepal.
Land rights and authority vary from nation to nation and from planting site to planting site. However, the overwhelming majority of our forest restoration projects occur on government-owned land under the local community's direct authority. In contrast, we work on smaller scale agroforestry projects, as seen in many of our projects in Haiti. Agroforestry efforts typically occur at sites owned by small-scale farmers. The one consistent determining factor in each nation is that we have established legal Government Associations and/or Non-Government Organizations, which provide us with the authority to operate effectively and in coordination with all the essential regional and local governance agencies on crucial determinants.
The vast majority of the trees at our sites are owned by the local communities who actively participated in restoring their regional forest during their employment period with us. The common but much smaller exception is when agroforestry trees are planted at small plot farmer sites where the land is owned by the local farmer. In such cases, the small plot farmer owns the trees along with the proceeds from the trees.