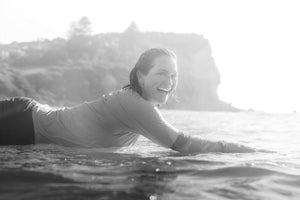 Photo credit - @bombora.days
tati guedes
surfer - mother - nature advocate
photo credit - @freshwaterlongboardclub
Tati is a surfer, free diver, lifelong learner and mum. She is a passionate advocate for nature conservation and the rights of all living beings, defending that everyone has a right to belong, using her voice to spread awareness of and supporting conservation and human rights groups that undertake compassionate and evidence-based work. 
With degrees in marketing and environmental management, Tati strives to use her skills to make this world a better place – even if it's one grain of sand at a time. 
"I'm excited to be a part of the Wolf Bear Collective family, working to shift consumption paradigms to a more regenerative approach that respects nature and the planet we live in" _ Tati Guedes
Tati lives beachside (of course) in Sydney, Australia with her multicultural Brazilian-Swiss-Swedish-Australian family. We're so inspired to have her on board for a thrilling journey of positive change.